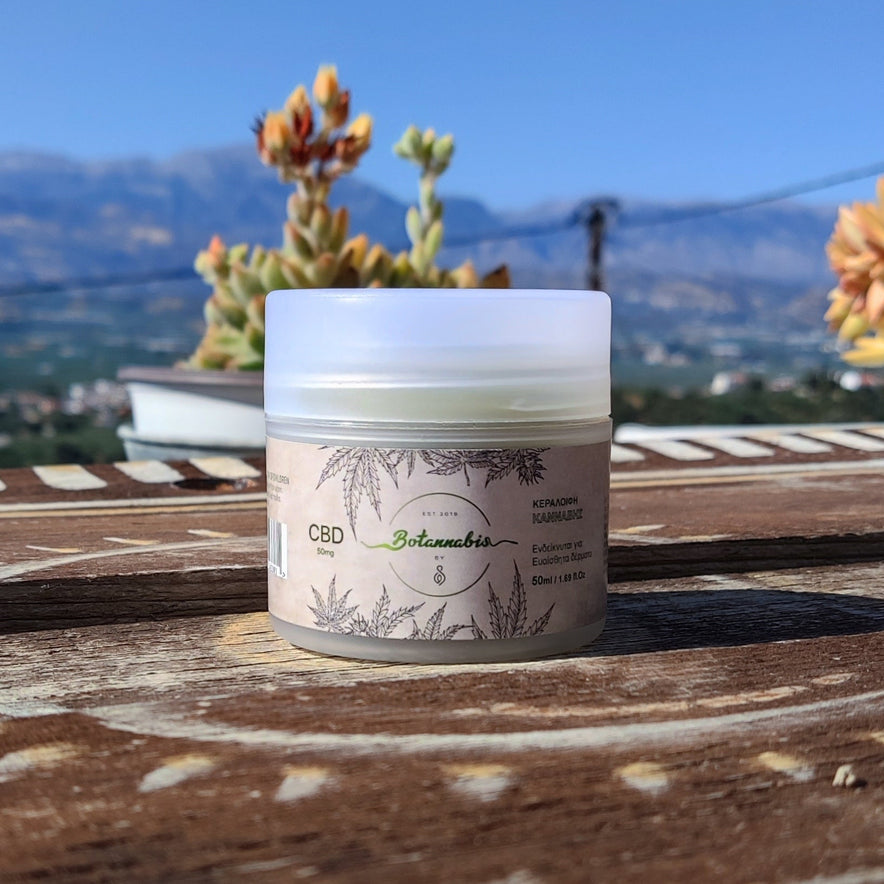 "Botannabis" CBD & Beeswax Cream
Botannabis cream can help treat various serious conditions such as psoriasis, eczema, arthritic pain, acne, wound healing, calluses, and varicose veins. It can also help treat wrinkles and cellulite.

Cannabinoids are naturally occurring compounds found in cannabis. The equivalent molecules, known as endocannabinoids, are produced by our bodies. These molecules regulate the balance of our metabolic system. The cannabinoid system affects all bodily functions. It plays an important role in the regulation of pain, sleep, mood, memory, hunger, and other cognitive and physical functions.

Cannabidiol, or CBD, is one of the most essential cannabinoids. CBD is well-known for its health-promoting properties.   It has also been found to be useful in a range of mental and physical conditions such as reducing stress, improving sleep, appetite, memory, reducing pain, helping with various inflammatory conditions, and so on, with considerable advantages in a variety of diseases.
Ingredients
Grapeseed oil, Beeswax, Olive oil, Castor seed oil, Shea butter, Sunflower oil, Hypericum perforatum flower extract, Tocopherol, Cannabis sativa seed oil, Cannabis sativa leaf oil, Coconut oil, Calendula officinalis flower extract, Galium aparine extract, Arctium Lappa leaf extract, Arctostaphylos uva-ursi leaf extract, Plantago major leaf extract, Rosmarinus officinalis flower wax, Boswellia serrata oil, Stellaria media extract, Pelargonium graveolens oil, Lavandula angustifolia oil
By MAMAKA, meaning "mother" in a very affectionate way in Greek, an association formed as a tribute to the mothers that first walked alone on the road of using CBD for medicinal purposes, without state support, for the sole reason of improving the health of their children, embracing more and more people in the process, who broadened their thinking as they envisioned better health care.